KhatushyamJi: Khatushyamji is a village of religious importance in Sikar District of Rajasthan in India. It is home to a famous temple of Shyam Baba. Khatushyamji's temple, constructed of the famous Makrana marble, is in the heart of the town. Khatushyamji is considered to be the God of the Kaliyuga. Shyamji is synonymous with Krishna and thus, he is worshipped in the same form. He is also known as khatunaresh, sheesh kedani, lakhdatar, teen baandhari,haarekesahare, leleykeaswari, baba shyametc
KhatuShyamji is a Famous God of current time. Many years ago Lord Krishna gave him the boon to be worshiped at current time when Veer Barbareek sacrificed his head in the way of religion.Lord Krishna delighted with Barbareek's great sacrifice (Sheesh Daan), granted him the boon that when Kaliyug (Present times evil times) come downs, he would be worshiped by the name of Shyam in his form. he is also called Sheesh KeDaani (Donor of head) in his Devotees. He fulfills all wishes of his pilgrims whose have true heart .Shyam baba is also known Haareka Sahara (Helper of Losers) This khatushyam.in website is based on ScandPuran written by MaharshiVedVyas. In this epic Mother and fater is mentioned as MaaMorvi and Ghatochkach.PandavBheem is considered Grand Father of Veer Barbreeka.

SalasarBalaji: statue was discovered at Asota Village The site of SalasarBalaji was discovered by one GinthalaJat of village Asota of district Nagaur. On Saturday, ShravanShukla-Navami -Samvat 1811 (1754 AD), a miracle happened. A GinthalaJat farmer of village Asota in district Nagaur of Rajasthan was ploughing his field. All of sudden the plough was hit by some stony thing and the sound – thlikk … was created. He dug up the soil of that place and found an idol covered with sand. His wife reached there with his lunch packet. The farmer showed the idol to his wife. She cleaned up the idol with her sari (dress). The idol was that of Balaji i.e. Lord Hanuman. They bowed their heads with devotion and worshipped Lord Balaji. The news of appearance of Lord Balaji spread in the village Asota immediately. The Thakur of Asota also heard the news. Balaji ordered him in the dream to send the idol to Salasar in the Churu district. Same night a devotee of Lord Hanuman, Mohan DasjiMaharaj of Salasar saw Lord Hanuman or Balaji in dream. Lord Balaji told him about the idol of Asota. He immediately sent a massage to Thakur of Asota. The thakur was surprised to know – How Mohandasji knew minor details without coming to Asota? Certainly it was a kindness of Lord Balaji. The idol was sent to Salasar and was fixed at the place known as SalasarDham. Mohandas got constructed a temple mud-stone temple here in samvat 1815 (1758 AD) with the help of Noora and Daumuslimkarigars of FatehpurShekhawati. The cashier of SikarJagirdarRao Devi Singh got constructed temple as he was once saved from loot by Dungji-Jawaharji by the blessings of Balaji. SikarJagirdar Devi Singh did not have a son. He heard about Balaji and came to this place and tied a coconut on the jal-tree to fulfill his wish of a son. Devi Singh got a handicapped son Laxman Singh after ten months. The custom of tying coconut to fulfill wish continues from that time onward. Later on Mohandas handed over the work of worshipping of Balaji to his bhanjaUdayram and appointed him the first pujari of the temple. A patta of the land was made in the name of Balaji in the presence of ShobhasarthakurDhiraj Singh, Salasarthakur Salam Singh and elders of TetarwalJats.

Brahma Temple, Pushkar: One of the oldest cities of India – Pushkar is famous for housing the only Brahma temple in the world. Located on the banks of Pushkar Lake this temple is dedicated to Lord Brahma "the creator god", who is believed to have performed penance here for 60,000 years to have a glimpse of Lord Radha Krishna. Steps of marble lead you to the interior of the temple where a silver turtle lies embossed in the floor and around it are hundreds of silver coins embedded in the floor only. This temple holds an important place in the Hindu religion and is visited by hundreds of devotees every year. Pushkar also has various other temples that can be visited such as Varah Temple, Mahadeva Temple, Gayatri Temple and Raghunath Temple etc.

Karni Mata Temple, Deshnok: Deshnok is a small village in Rajasthan located just 30kms from Udaipur, is known for Karni Mata Temple which is dedicated to Karni Mata, an incarnation of goddess Durga. It is one of the most visited temples in Rajasthan and attracts large number of pilgrims to attend the annual Karni Mata Fair. It is a magnificent temple with huge silver gates and carved marbles. One strange feature of the temple that amuses everyone who comes here is that the temple is house to huge number of brown rats that wander all over the place without any hindrance and seeing the rats is believed to be auspicious. Eklingji Temple, Udaipur: Located 22kms from Udaipur on the banks of Indersagar Lake, Eklingji Temple is a huge temple complex consisting of 108 temples. The temple is dedicated to Lord Shiva with a 50ft high black stone statue with four faces depicting his four forms. The east-facing part is recognized as Surya, the west-facing part is Lord Brahma, the north-facing part is Lord Vishnu and the south-facing part is Rudra i.e. Lord Shiva himself. The other deities that are worshipped here include Parvati, Ganesha, Kartikeya and Saraswati. During the festival of Shivratri the entire temple complex and deities are beautifully decorated and attracts a large number of devotees.

GovindDevji Temple, Jaipur: The temple is a vital part of the City Palace complex – GovindDevJi Temple. It is one of the prominent temples of Rajasthan and situated in Jaipur it is visited by many people annually. Dedicated to Lord Krishna and has been well preserved by the earlier royal family. And the image was brought from Vrindavan, installed here by Sawai Jai Singh; GovindDevji is an incarnation of Lord Krishna. It is visited by many pilgrim and devotees along with tourists who visit the City Palace.
Sample itineraries for Pilgrimage Tours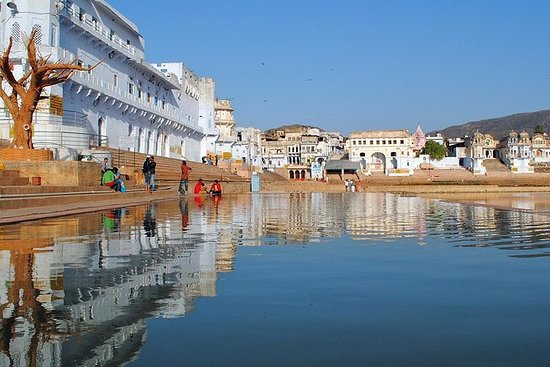 Holy Tour to Pushkar