Camping in Rajasthan desert combined with camel safari adventure can be the best adventurous journeys, the memories of which will be cherished for life. Camel Safari in the sand dunes of Thar Desert is a journey which will take you to small desert villages where you will see ruins of ancient buildings and monuments, also get a glimpse of culture and lifestyle of colorful people of Rajasthan who live in the extreme conditions of the desert.
Sam Sand Dunes are the most famous place for camping which is far located from the crowdy city amidst the Thar Desert. You will feel a different Rajasthan here, quite and peaceful. Jaisalmer being the most famous spot for camping has a number of camps which offers luxury as well as budget tents with all the necessary amenities and facilities. You will be offered with Rajasthani Cuisines to entertainment activities apart from comfortable tents.
Places for Camping in Rajasthan
the Mainly Thar Desert is famous for Camping activities in Rajasthan. Jaisalmer and Jodhpur are the top destinations for camping in Rajasthan. These destinations have a number of tour operators which provide camping facilities along with the camel safari in the desert of Rajasthan. Camping in the deserts is unique experience and way to explore the culture and lifestyle of Rajasthan.
You can also enjoy camping in wildlife areas like in Ranthambore National Park where you can experience the wilderness of Rajasthan. There are various camp facilities at Ranthambore.
Some Best Places for Camping in Rajasthan :
Jaisalmer – The Desert of Jaisalmer is the most famous place for camping. There are number of camps located in the outskirts of Jaisalmer city which offers tents for every budget along with great facilities and entertainments.
Jodhpur 
Dechu
Bikaner
Pushkar – Pushkar is another famous destination in Rajasthan known for its camel festival which is held between October – November. Most of the tourists come during this time only to enjoy both camping and the Pushkar Fair. Royal Desert Camp is the most famous camping place in Pushkar.
Ranthambore National Park
Mandwa in Shekhawati

Tips for Camping in Rajasthan
While camping does not forget your Warm Sweaters and Jackets, Warm Sleeping Bag for Nights. During the Day, carry a Hat, a Pair of Sun Glasses and Sun Block Lotion.
You can also purchase some of the Deluxe camping options in the sand dunes. Here you will enjoy the Deluxe Tents accommodation. The tents have large bedrooms with lavish bathrooms, shower and hot/cold running water along with exclusive and authentic cuisines.
Camping in Rajasthan for Adventure Lovers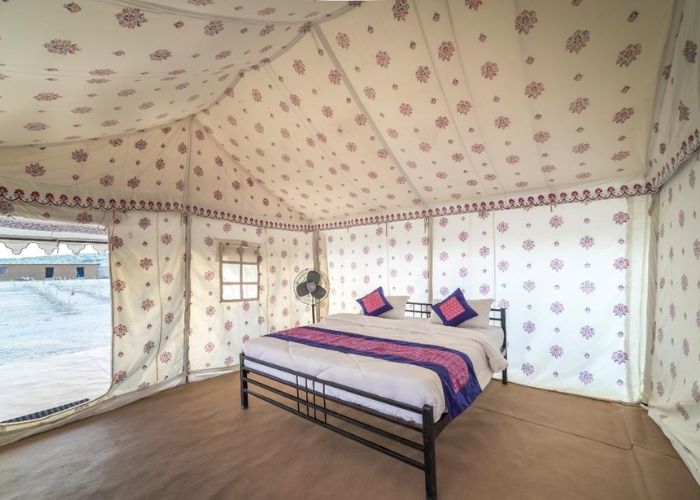 Standard Camp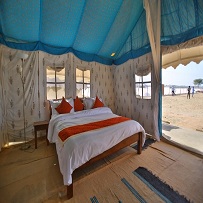 Deluxe Camp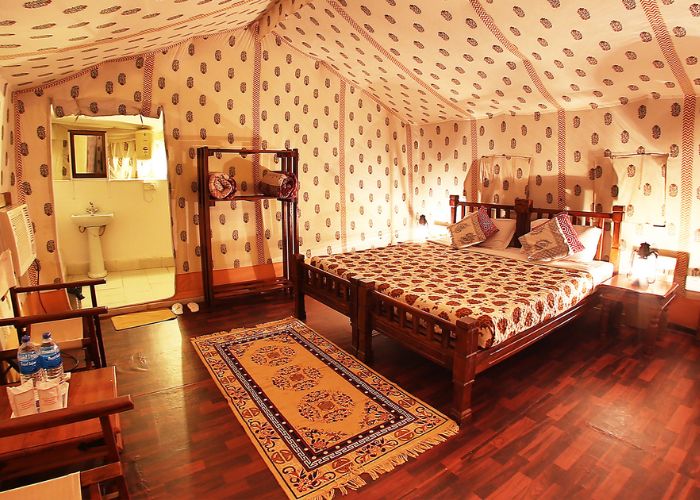 Deluxe Cottages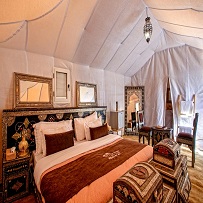 Swisss Luxury Tents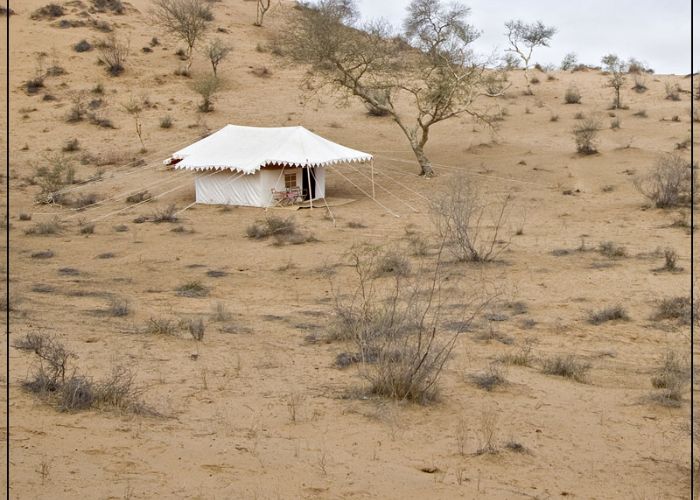 Private Camp
Safari in Rajasthan for Adventure Lovers